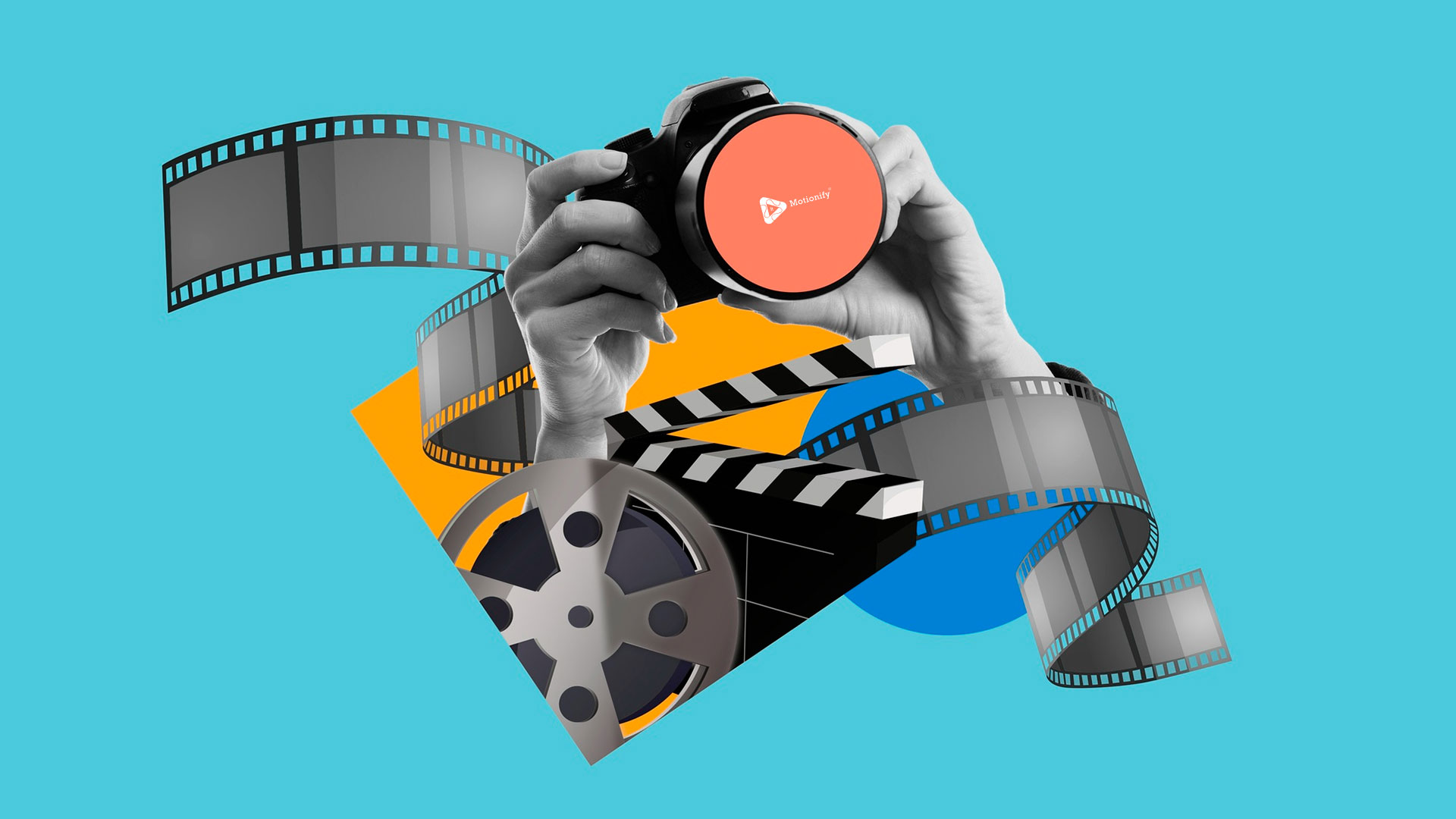 Motionify, The Best Corporate Video Production Company in India
Navigating the world of corporate video production can feel like a maze. You're juggling the power of video in business, various types, production processes, and benefits—all while trying to choose the right company. It's complex, but don't worry. Our article breaks it down, covering everything from the types of corporate videos to how to pick the best corporate video production company in India. You're not alone; we've got the roadmap to guide you. Read on to simplify your journey.
The Power of Video in Business
Everyone is talking about marketing videos—but why?
"Isn't it exciting to know that 72% of people use videos to learn about a product/service?" (HubSpot Study)
Video content stimulates the visual and auditory senses, making them memorable and emotionally resonant. Standing out in a highly saturated market is a crucial and critical factor now. To do so, you must visualize the content, statistically proved by Wyzowl's study, which reports that "82% of startups believe video creation has helped them increase brand awareness among the target audience."
If you want to see a remarkable rise in the ROI, you must switch to corporate video creation. A group study by Aberdeen shows that you can grow your ROI 49% faster year over year, compared to your competitors, using video marketing techniques.
The increase in ROI drives 95% of marketers to increase their corporate video marketing investments.
Benefits of Corporate Videos
Winning Trust
Trust isn't just a word; it's a pact between you and your customers. How do we build it? Through corporate videos that show the real you. We capture the heart of your business, making trust a given, not a question.
The Perfect Catch
Why read when you can watch and listen? Our videos grab your audience, making them remember more and stick around longer. In a world where attention is gold, our videos are the treasure map.

Boost Your Sales
A good picture speaks volumes, but a great video? It's a full-blown novel in a minute or two. And here's the kicker: videos ramp up your sales. Whether you're a video rookie or a seasoned pro, we tailor our work to fit your goals. Trust us to tell your story, your way.
Versatile ROI
Crowning feature? An exceptional return on investment (ROI) that 83% of businesses vouch for. With our streamlined 3-step process, your customized animated corporate video is designed to charm your audience and extract maximum ROI.
Here's what we bring to your table:
| | |
| --- | --- |
| Features | Description |
| Professional Video Production | Live-action or animated videos handled by experienced pros |
| Quality and Talent | A creative team that knows how to engage your audience |
| Creative Storytelling | Every business has a tale, we help you tell it |
Let's create videos that resonate with your customers, leaving them wanting more. It's time your story is heard, loud and clear!
8 Different Types of Corporate Videos
Effective business communication starts with using a variety of corporate videos, and there's no doubt you must be using them already.
1. Testimonial Videos
Gone are the days when written testimonials were worthy. It is time to utilize videos to share authentic narratives from satisfied clients. It fosters trust and improves credibility by showcasing tangible results.
2. Animated Corporate Videos
Your stakeholders must know about the intricate concepts of the corporate world but in an easier way. Animated corporate videos simplify complex concepts through animations. They foster understanding and increase engagement.
3. Live Action Business Videos
The power of NOW is well-established in Live Action Business Videos, where real-time storytelling conveys "in-moment" live updates. These may include industry insights and corporate narratives.
4. Corporate Communications
The corporate communication videos keep the stakeholders informed of vital information from internal and external stakeholders. The purpose of corporate communication videos is to disseminate significant updates and announcements to ensure transparent and consistent communication.
5. Brand Anthem
The most sought-after video in the corporate world is brand recognition, which you can develop by defining your business's core values. Such videos can embody the company's principles and vision and may resonate with the target audience to fortify brand identity.
6. Recruitment Videos
The primary attribute of recruitment videos is to showcase the dynamic work culture to attract the best talent. Such videos substantially impact the top-tier professional who may align with the company's vision and can determine to become part of that system.
7. Corporate Video Series
For continuous engagement, it is vital to keep the content coming back with new and exciting real-time updates about any new product or maybe the change in the structure of the company. Such video series have a hint of coming back again, so it increases the stakeholder's engagement and lets them keep on thinking about your company for what's cooking up next.
8. Conference Videos
As the name suggests, corporate videos aim to capture the critical moments of any conference. It is the world of documentation; whatever you do must have a document to prove it. What other way than a video documenting the valuable knowledge-sharing revealed in the conference for better networking and preservation?
The Corporate Video Production Process
Pre-Production: Planning for success
The initial phase, where all the groundwork is laid, is called pre-production. The essential mapping of the critical events and the procedures to follow, the protocols to include and the end product are all discussed in this single frame. It involves the casting, location, scouting needed, and scheduling to assemble everything at a place to unify in one video project.
Production: Capturing the essence
All the hard work that you have put into the successful planning phase has now been seen practically in the production phase, where you capture the missing puzzle of the crux in the form of production. Crew members, the essential equipment, the actual shooting of the video content, everything comes to life per the planning phase to capture visuals and audio so that you can convey the intended message or emotion or the story outlined in the pre-production phase.
Post-Production: Crafting the narrative
Now that you have the raw footage, it is time to edit and craft it to a final video product. It involves video editing, adding visual effects, colour correction or incorporating music to make the appeal of the video profound. The overall shaping of the video is created in the post-production to create a cohesive and impactful story.
How to Select the best Corporate Video Production Company in India?
Production quality:

– Look at the company's portfolio and compare the quality of their videos to what you would see in TV or film. Check if the b-roll (additional footage) matches the quality of the main footage.

Experience:

– Check the company's accomplishments, clients served and high-quality corporate videos. A company and team with no experience might not be of great help to you.

In house expertise and services:

– heck the range of services the company offers. Do they have a scriptwriter extraordinaire? Is 3D product animation part of your wish list? Are you looking for a lot of cool, creative effects?

Reputation:

– Look for reviews and testimonials from previous clients. Check out the company's social media pages and see what people are saying about them.

Communication:

– Check if the company is easy to communicate with and responsive to your needs. You want to work with a team that is willing to listen to your ideas and provide feedback. We promise same day replies on business days.

Location:

– Check if the company is located near your desired location. If you need to shoot on location, it may be more convenient to work with a company that is closer to your desired location. We serve clients all over the country.

Timeline:

– Check if the company can work within your timeline. If you have a tight deadline, you need to work with a team that can deliver on time. Our average delivery time is x weeks.
Motionify.co: Your Best Bet for Producing Results-Driven Corporate Videos
Choosing the right corporate video production company isn't just about the final product; it's about the journey there. You need a team that's not just skilled but also transparent and adaptable to your needs. That's where we come in. At Motionify, we've built a reputation for being straightforward and reliable. Our clients keep coming back because they trust our skilled crew and our cutting-edge tech.
We believe in clear communication from the get-go. No hidden fees, no surprises—just top-quality videos delivered on time. With us, you're not just getting a video; you're getting a partner to bring your vision to life. Trust Motionify to bring your ideas to life.